Fine Wooden Boats has undertaken many Riva boat restorations, The Riva Tritone is one of just a few wonderful Riva craft that we have had the pleasue of working on.
The Riva Tritone is one of the most famous models of the Riva line and is widely considered the most beautiful Riva model of all time. The first of the Rivas to be equipped with twin Cadillac engines.
The Tritone was the most important model in the Riva stable, the largest and most expensive boat, and the only one, at that time, to begin to be equipped with twin, as opposed to a single engine.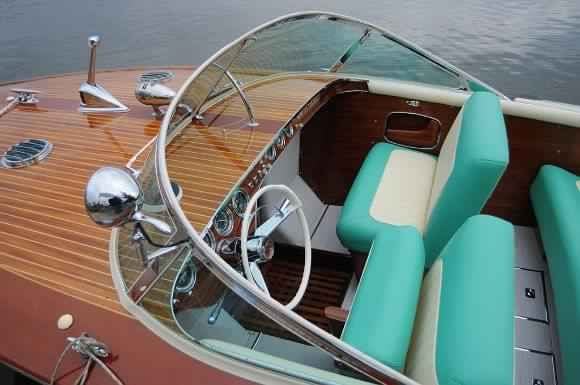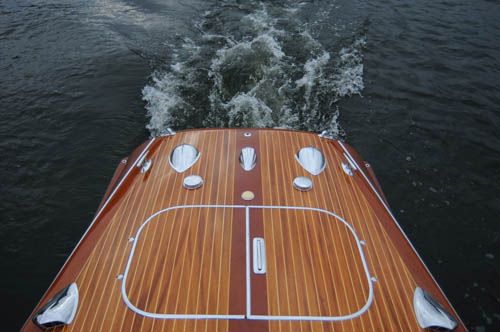 Even when the more flexible Aquarama was launched the Tritone remained highly popular. Its size, power and long range (thanks to large fuel tanks) made it an ideal boat for sea-cruising, and it did much to forge Riva's reputation in the Mediterranean.
Evolving from the BQ 69 designed in 1950 it was given its name in 1953. Its hull design drew on the Corsaro, but with the addition of a second row of seats in the cockpit it became much more passenger friendly. The long stern area was completely decked, and clearly demonstrated the elegance of the classical Riva shape and yet, with it's sun bed mattress, it could also be used by passengers to sunbathe.
The windscreen, with it's chrome plated frame, held the four glass pane sections but, as with later models this became a single wrap-around frame.
The chequered upholstery was trimmed with a yellow vinyl. Electronic gauges for engine revs, petrol reservoir and water temperature were introduced. The cockpit had a green removable canvas cover together with a removable frame – considered to be the forerunner of the hoods to be fitted to later Riva models.
A total of 257 boats were built between 1950 and 1966, and there were three versions in addition to the basic model. From 1954 it was fitted with twin Chris-Craft engines which were coupled to the Chris-O-Matic electrohydraulic controls.
The Super Tritone was slightly longer with more powerful engines; 21 were built between 1960 and 1963. The Tritone Cadillac, meanwhile, was powered by twin 250hp Cadillac engines; ten were built between 1956 and 1960.
The Tritone Aperto, upon which the Aquarama design drew directly, had an open sunbathing area at the stern.